Happy 10 year Anniversary Josh Blunden!
In addition to celebrating an awesome 14 years as Precision IT, we also recently celebrated a huge milestone with our longest serving employee, Josh Blunden. Josh has hit the 10-year mark at Precision IT, and what an amazing decade it has been!

Precision IT was founded in 2008, we were fortunate to have discovered Josh in 2012. It was a small team back then as Precision IT started to really expand and make significant moves in the industry.

Josh's journey with Precision IT started after he moved from Central Coast NSW up to the Gold Coast, leaving his previous employer of 8 years. Interviewed in a café in Currumbin on the Gold Coast, Josh was hired as a Precision IT Project Engineer.
Since his start with Precision IT, Josh has held several roles in the business and has been monumental in building up these roles throughout the years and is now our Central Services Engineer.
'When you look up the word integral; it states, "Necessary to make whole, essential, or fundamental" and I think when we think of Josh (from a Precision IT standpoint) the word that best sums him up is integral. Josh brings so much to the family here at Precision IT not just from a work sense but from a cultural and really exuding the fabric of what Precision IT is. Being here for 10 years he has helped guide, build and nurture all the positive things that make Precision IT what it is today. Lastly; 10 years is a great milestone but as I said on the day; I am looking forward to the day we retire together (although still awhile away).'

Geoff Boyce – Director, Precision IT
Josh is integral to Precision IT operations, our employees, and our clients where he assists in the development, testing, deployment, ongoing support, and maintenance of IT environments across all levels of the business both internally and externally. His expertise has been pivotal in the development of hybrid and cloud only environments that we see across Precision IT services today.
'I've been working closely with Josh since the start of my Precision journey 5+ years ago. His positivity, depth of knowledge, willingness to help and teach has always been a breath of fresh air. The man has certainly helped me with my own career progression, and I have nothing but gratitude to him for that'

Blair van Waveren – Technical Alignment Manager & Peer, Precision IT
We look forward to another 10 years with Josh and all the development and accomplishments that come with his #PITjourney #GenuineLegend #PrecisionITThePlaceToBe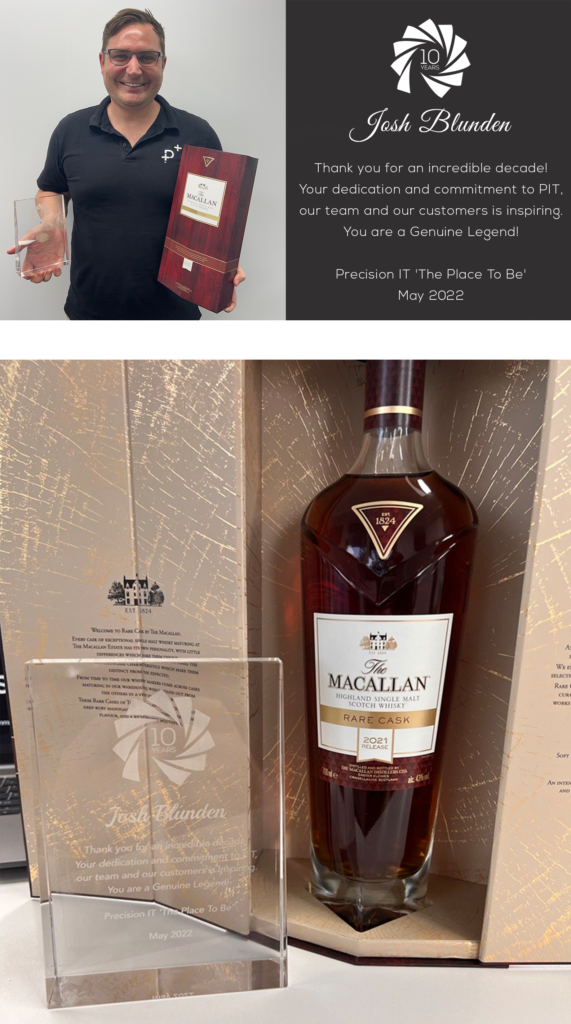 Fun Josh Facts!
| | |
| --- | --- |
| What did you want to be when you were younger? | Highway Patrolman – I liked the idea of driving fast without penalties |
| If you were in the circus who would you be and why? | I'd love to be the ringmaster… mainly because I like the out there getup, and there's nothing more out there than a big hat and cane haha would also be fun introducing all the acts and amping up the crowd! |
| What is something people don't know about you? | I'm an avid snowboarder – have been snowboarding just about every season since I was 9 years old. Have been to Japan snowboarding 7-8 times in the last 10 years – I love it! Can't wait for the next trip! |
| Do you have any hobbies other than snowboarding? | I like to go Mountain bike riding or play a round of golf when I have time. I also collect scotch, however its been difficult as I tend to drink it – so the collection hasn't grown much. |
| How do you spend your days off? | I love spending time with family and friends, motorbike riding, mountain bike riding, and anything Star Wars on Disney! |
| | |

Bringing You Genuine Legend's.