Happy Anniversary to Mark!
We have recently celebrated the 6-year milestone with Mark, and what a journey he has had @PIT!
Starting with Precision IT straight out of TAFE, Mark joined as a Service Delivery Associate in 2016 in Sydney. From the get-go we saw Mark kicking goals, and this showed through his dedication and willingness to learn, after a year Mark moved into the Senior Service Delivery Technician role as a Team Leader. His mind future set for the Professional Services team.
"During initial onboarding discussions, I suggested to Mark that the integration into the PS team would not be easy, that it required a lot of late nights a lot of commitment and a lot of perseverance, but that I believed Mark could easily succeed due to his attitude. I was not wrong."

Joel Gomes, Service Delivery Manager
After another year, Marks efforts and education continued to grow moving into the Professional Services team as a Technician. Keeping on track with his progression in the business whilst staying on-top of the forever progressing IT field, we saw Mark charge his way into the Professional Services Engineer role in 2019 and continues to smash goals in his role. Mark to date has achieved:
A TAFE graduate with 0 experience to Engineer in 4 years timeline.
Gained 7 certifications and is one exam away from 8.
Championed 80+ Projects.
Solved countless support tickets; and
Achieved a 6-year milestone with the #PITFAM!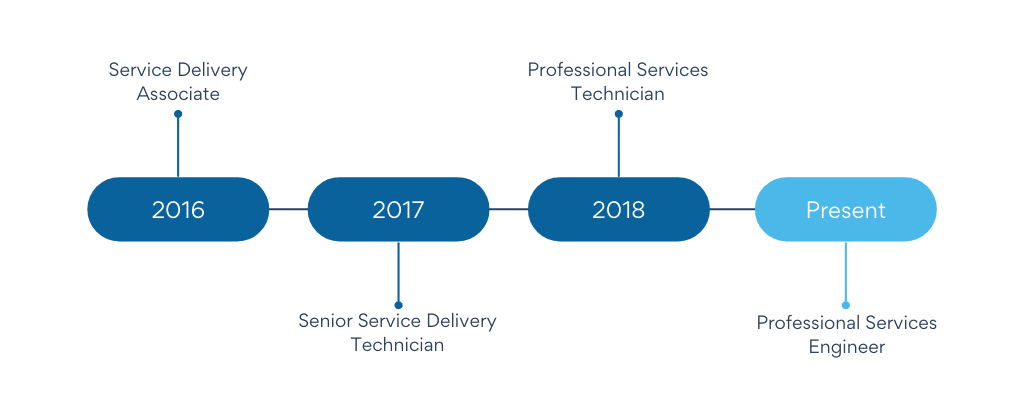 "Mark is one of the most committed, dedicated, resilient and perseverant individuals that I have ever meet, not to mention that he is super passionate about all things nerdy … hence the reason why Mark is one of our Superhero's."

Joel Gomes, Service Delivery Manager
We look forward to seeing what Mark achieves next as he continues his career with Precision IT!
Fun Mark Facts!
| | |
| --- | --- |
| What did you do before Precision? | Worked at KFC while I studied |
| Something people don't know about you? | I have a degree in music and can play some funky bass! |
| Your dream destination? | Chernobyl, Ukraine |
| Scariest thing you've done? | Travel solo |
| Most embarrassing thing you've done? | Slept through my train stop. Twice! |
| Favorite food? | A liver sandwich from a hidden shop in Alexandria, Egypt |

Bringing You Superhero's.